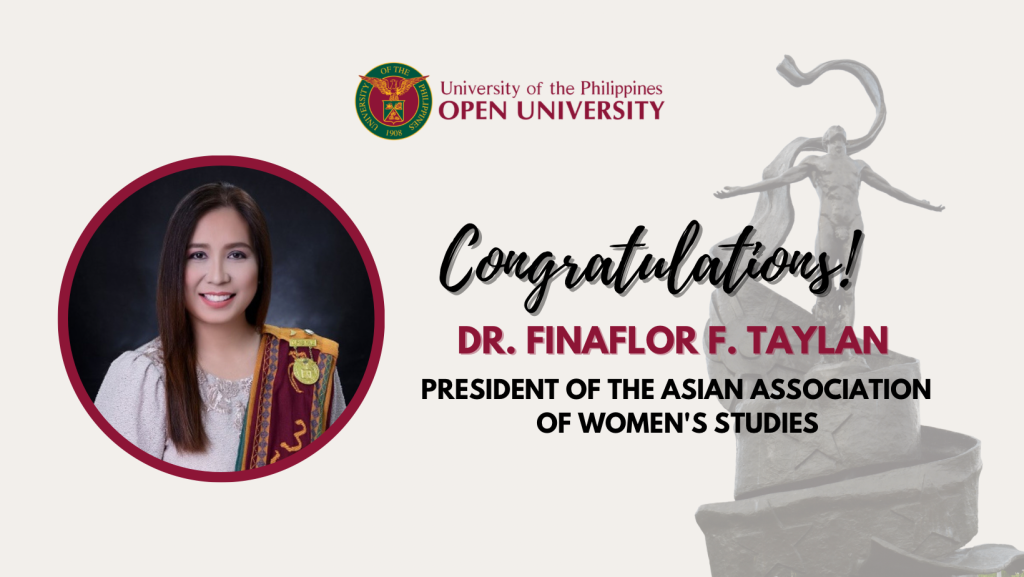 The Director of the Office of Gender Concerns (OGC) of the University of the Philippines Open University (UPOU), Dr. Finaflor F. Taylan, will serve as the president of the Asian Association of Women's Studies (AAWS) for 2023 to 2025. 
AAWS is an organization that serves as a forum to promote and discuss feminist education and research in Asia. It recently concluded the 6th AAWS Congress 2023 last May 11-12, 2023, with the theme "Locating/Centering Women and Gender in the (Post) Pandemic Era of Advanced Technology" where Dr. Taylan presented her thoughts during one plenary session on "Revisioning Gender/ Women's Studies in the Post Pandemic World" and a paper entitled "Online Gender Sensitivity Training Course as a Public Service Initiative: For Whom and for What" in a parallel session.
Dr. Finaflor F. Taylan served as AAWS Secretary General in 2014-2016 during the term of then UPOU Chancellor Dr. Grace Javier-Alfonso. Dr. Taylan was appointed director of the Office of Gender Concerns in 2015 until 2017. She resumed the post in 2022 after coming back from study leave when she pursued her doctorate degree at the University of Southern Queensland. She is also the program chair of the Diploma in/Master of Social Work program.
For more information on the Asian Association of Women's Studies, please visit their website at https://aawomenstudies.org/.
Congratulations and we wish you a fruitful term, Dr. Taylan!