The University of the Philippines Open University (UPOU) Office of Gender Concerns (OGC) conducted a  Gender Sensitivity Training (GST) for the university's faculty and staff on 27 November 2020 via zoom. 
The training was attended by more than 50 faculty and staff from different UPOU offices and units. The main goal of this activity is gender-mainstreaming and to increase awareness and consciousness of gender issues and gender and development among faculty and staff.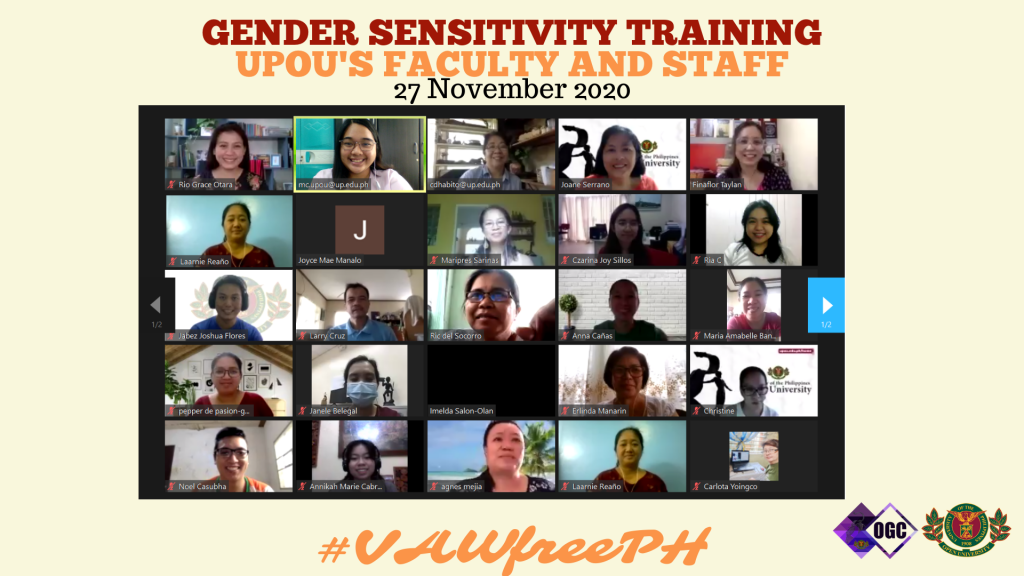 Assistant Professor  Finaflor Taylan, a faculty member of the Faculty of Management and Development Studies (FMDS) of UPOU and a former OGC Director, and Ms. Rio Grace Otara, a youth programme officer for the United Nations Population Fund and a lecturer of UPOU, served as the resource persons for the activity.

Ms. Otara highlighted in her portion the basics of gender concepts and issues, how they came to be, and how they affect society. Ms. Taylan emphasized the different programs and policies of gender mainstreaming. She also discussed how we can apply these in our institutions and devise plans for moving forward. 
The training consisted of short interactive online activities, and a question and answer portion that sparked a discussion on how the concepts of gender affected their personal and professional lives in UPOU. 
This training is part of OGC's participation in the 18-day campaign to end violence against women and children (VAW). This is the office's activity for the third day, aligning with the Philippine Commission on Women's suggestion of "continually conduct/spearhead anti-VAW advocacies in your campus, and if possible, to your immediate community through extension programs" for academic institutions.