As part of the 18-Day Campaign to End VAW, the UP Open University (UPOU) Office of Gender Concerns (OGC) conducted the first part of the two part session webinar entitled "You and Me against Violence: Role of the Community in Stopping Gender-Based Violence" held last December 01, 2022. 
Dr. Finaflor F. Taylan, OGC director  and Program Chair of the Diploma/Master of Social Work and the Diploma in Women and Development programs, formally began the webinar and welcomed all attendees. Dr. Taylan explained the title of the forum and the whole campaign which underscores the shared duty of everyone in ensuring safety and protection from all kinds of violence, most especially, gender-based violence. Moreover, she discussed the initiatives in UPOU to make university processes, services, and policies more gender inclusive for everyone. Ms. Gelyzza Marie Diaz served as the host of the forum and formally introduced the resource speaker for the forum.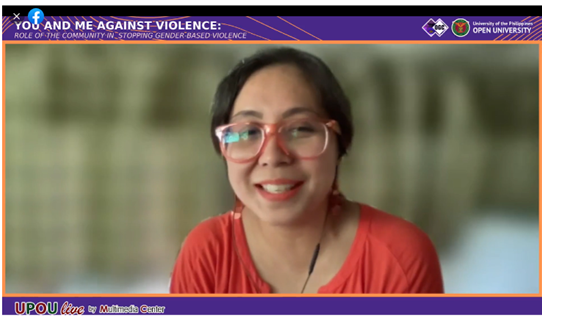 Dr. Maria Lourdes Turalde Jarabe, Assistant Professor, Diploma in Women and Development, Faculty of Management and Development Studies, was the webinar's resource speaker. Dr. Jarabe discussed the definition and purpose of the 18-day campaign to end Violence Against Women (VAW): to increase awareness and understanding of gender based-violence and to discuss ways and initiatives to contribute in ending VAW.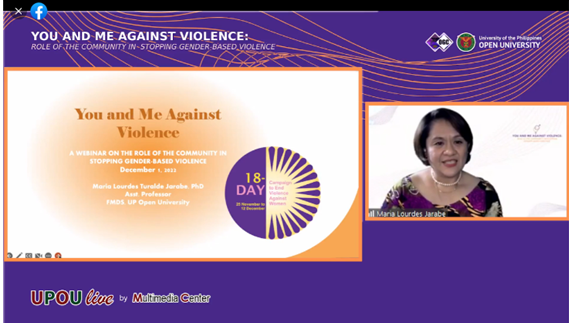 Dr. Jarabe explained basic concepts on sex and gender to help participants better understand the causes of gender-based violence including the social institutions for gender socialization. She also shared her study on female adolescent girls' experience of sexual abuse, healing, and resilience. Dr. Jarabe also mentioned that a change in mindset is necessary and one must consider that it is not just us individuals, but the bigger community that can stop VAW. She also shared her personal and professional journey in trying to contribute to programs and initiatives to ending gender-based violence as a social worker, a researcher, and an activist, at various levels. 
Comments and questions from the audience were raised during the program's Q&A session. Dr. Jarabe shared the importance of community involvement and efforts in mitigating issues and preventive aspects of abuse in ending violence against women. She also explained that she observed some good level of progress in some local government units in the Philippines in their gender programs which have resulted in better response to gender-based violence. Dr. Taylan also joined in the Q&A session particularly in answering questions regarding the university's programs and policies to stop VAW and her opinions on current global gender issues.
Dr. Taylan formally closed the webinar by adding a response to the last question on the status of the Philippines in terms of women and children's rights protection.  Dr. Taylan said that though the country is still in the upper bracket, it slid down in rank in terms of gender gap. She mentioned that we need to assess in which aspects we lack or have been complacent in. However she also emphasized that in the country, we have many policies, sub-sectors, and sub-issues regarding gender issues, violence, rape, the age for sexual consent, online sexual harassment, and laws like the Safe Spaces Act that further helps protect women from violence, harassment, and abuse. But she also mentioned that the country needs to strengthen its policy implementation. 
As a university, Dr. Taylan shared that UPOU is  trying its best to institutionalize  and implement policies through various programs, may it be academic or public service programs.. "We are trying our best to make it more gender-responsive through multiple initiatives, capacity building for faculty and staff, and research projects which mainstream gender and even gender-focused grants." With hopes, she shared that the massive online courses about gender sensitivity will be launched during the end of the campaign. She ended her closing remarks saying, "Have a violence-free afternoon and week, and hopefully our whole lifetime."