The University of the Philippines Open University (UPOU) spearheaded by the Office of Gender Concerns (OGC) celebrated the  2021 National Women's Month in  collaboration with the different units of UPOU and partner organizations.  The UPOU aligned its activities with this year's national theme "We Make Change Work for Women: Juana Laban sa Pandemya: Kaya!"

Online Communication Campaigns 
OGC kicks off the first day of Women's Month by releasing an online communication campaign asking women how they coped with the COVID-19 pandemic.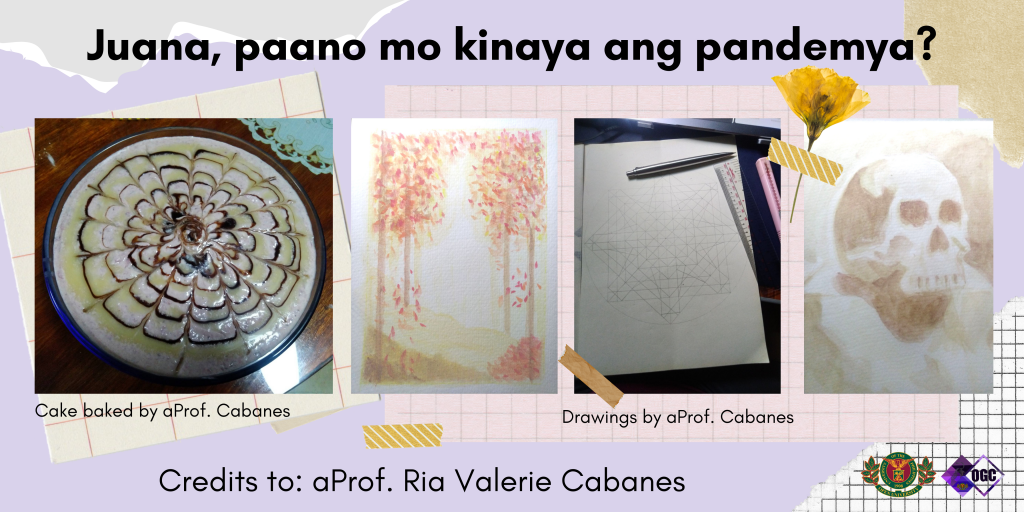 One of the responses the office received was from aProf. Ria Valerie Cabanes of the  UPOU's Faculty of Management and Development Studies (FMDS). She shared that the pandemic affected her financially, emotionally, as well as in terms of health aspects. She overcame these challenges by praying, talking with her friends, and engaging in different activities — such as cooking, drawing, following art tutorials like these from painting.tube. Here, she shared a few samples of what she drew and baked during the pandemic.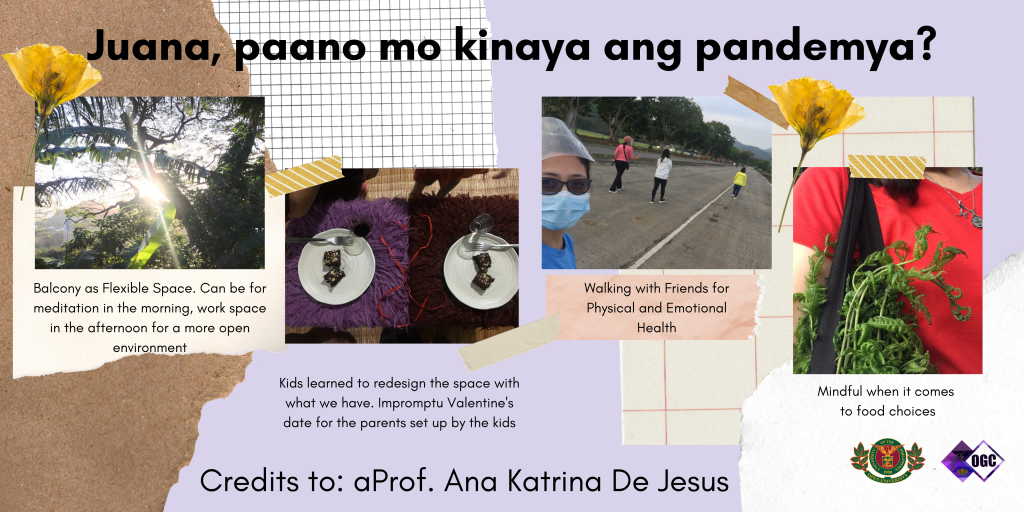 Another entry was from aProf. Ana Katrina De Jesus of the University of the Philippines Los Baños (UPLB) Department of Humanities. She shared that the pandemic blurred her aspects of work, home, leisure, and quiet spaces. She also found herself needing social connections. She coped with these struggles by keeping connected with her friends and family through online channels. She also learned new skills like gardening, cooking, meditating, and interior decorating. Here, she shared a few pictures of her coping mechanisms.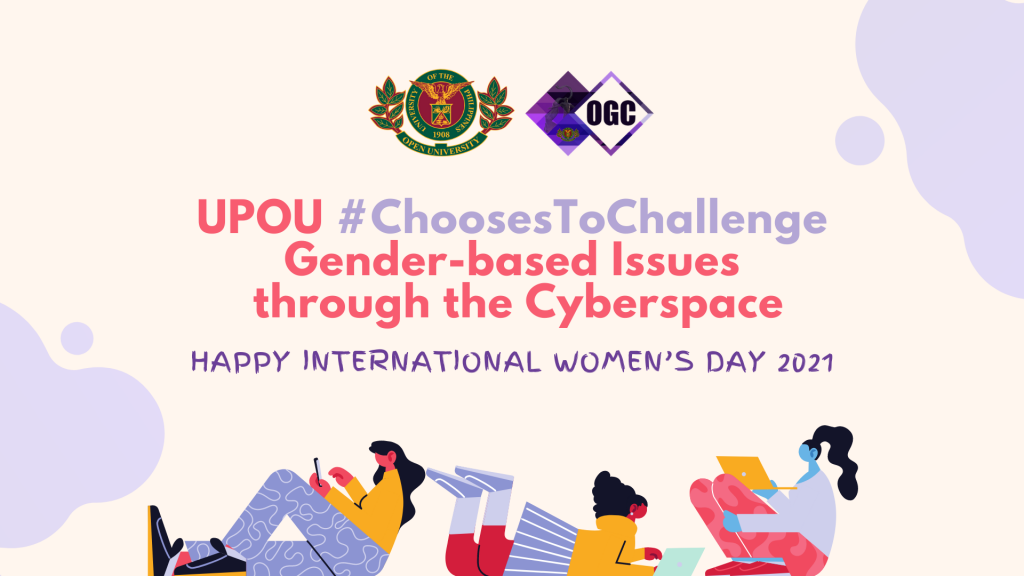 OGC also participated in the International Women's Day on 8 March 2021 by launching a campaign that advocated the #ChooseToChallenge. The entries contained UPOU's faculty, staff, and students personal statements of action on how they chose to challenge issues on gender and sexual harassment, especially harassment in cyberspace. 
To view the whole campaign, you may visit: https://www.facebook.com/UPOU.OGC/posts/2869301213325951
Introductory Course on Contact-center Services for Rural Women
The UPOU Ugnayan ng Pahinungod and the UPOU OGC partnered with the largest BPO Company in the Philippines: Concentrix — in developing an online introductory course on contact-center services. The online training program was pilot-tested among rural women groups to help them develop digital literacy skills as well as improve their communication skills. The program will also provide the participants with industry linkages for employment opportunities. The pilot test of the online training program was launched on 15 March and will run until 15 April 2021. The full launch of the course will be in May 2021. 
International Research Forum on Gender and Development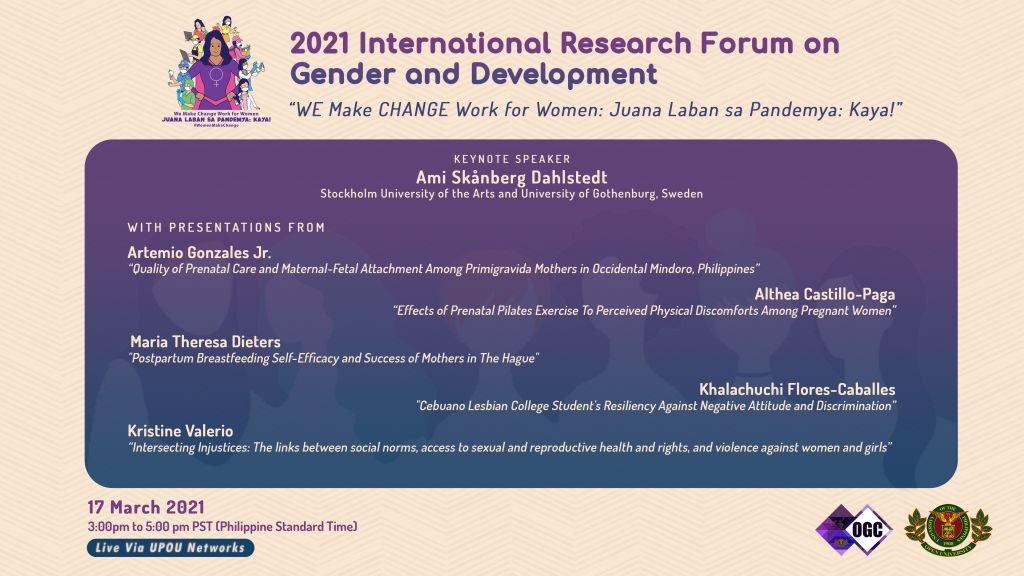 The UPOU OGC and the Faculty of Management and Development Studies Research and Publication Committee conducted an international online research forum on gender via Zoom and live-streamed via UPOU networks on 17 March 2021, from 3:00 to 6:00 pm. The forum showcased the research outputs of students, staff, and faculty of UPOU; with Ami Skånberg Dahlstedt, a senior lecturer from the Stockholm University of the Arts, as the keynote speaker. 
Ms. Dahlstedt discussed Suriashi — a specific gender codified movement technique in classical Japanese dance and theater, and how it is performed/walked in urban (and other) spaces. She discussed how the Suriashi walk can form a safe space for women and how this method can be used for meditation and activism. 
The research papers presented discussed various issues in gender — specifically on resiliency against negativity and discrimination; and linking access to sexual and reproductive health rights and violence against women and children. The forum also presented research papers on gender and development issues — specifically on breastfeeding, and prenatal and postnatal care. 
The forum is still available for viewing through this link: https://networks.upou.edu.ph/gadrf/
Let's Talk it Over Series: WOMENtrepreneurs in the Digital Era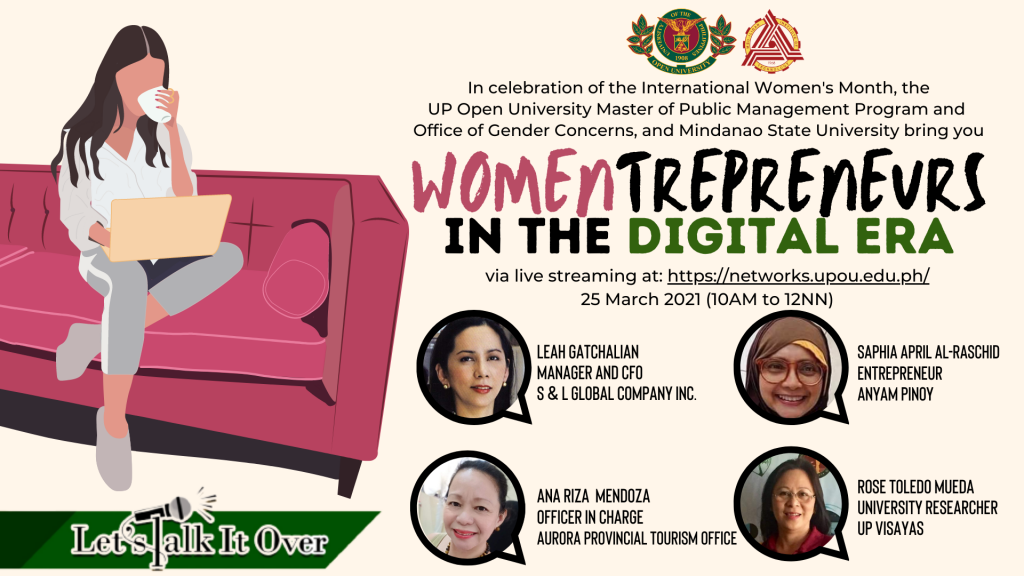 OGC also collaborated with the Master of Public Management (MPM) program of FMDS; Mindanao State University (MSU) – Iligan Institute of Technology and Gender and Development Resource Center; and the Blended Learning Network Zussamenarbeit (BLENZ) in organizing a Let's Talk it Over (LTiO) webinar series episode entitled: "WOMENtrepreneurs in the Digital Era." The LTIO was conducted on 25 March 2021, from 10:00 to 12:00 NN via Zoom and live-streamed via UPOU networks and Facebook page. 
The invited speakers discussed how their professions and businesses coped with and succeeded despite the pandemic. 
The webinar is still available for viewing through this link: https://networks.upou.edu.ph/32297/ltio-womentrepreneurs-in-the-digital-era/
As we end the celebration of Women's Month, the UPOU-OGC calls on everyone to remain steadfast as women continue to fight the various gender issues exacerbated by the pandemic. UPOU-OGC calls on its stakeholders to continue to create a venue for a critical discussion of issues that women continue to face and come up with solutions to address these issues in order to achieve women empowerment and gender equality.