The University of the Philippines Open University (UPOU) joins the first-ever system-wide UP Pride. With the theme, Heal, Rise and Unite, the UP Pride will be a month-long celebration starting on 8 October 2021. 
The UPOU proudly joins this month-long celebration through a series of online campaigns and activities spread out this October. The system launch will happen this 08 October 2021, 10AM via Facebook Live at the UP Pride's Facebook Page. The launch will feature solidarity messages from Vice President Leni Robredo, Senator Risa Hontiveros, Atty. Chel Diokno, Associate Justice Marvic Leonen, UP officials, student leaders, and guest speakers. 
The UPOU Office of Gender Concerns (OGC) invites UPOU faculty, staff, students, alumni, and other constituents to join the UP Pride and participate in the UPOU Spirit Day this 21 October 2021.
UPOU-OGC invites UPOU's constituents to submit an entry that expresses their solidarity with the LGBTQI Community. Kindly visit this link for more information on UPOU's Spirit Day. 
With the theme "Heal, Rise, Unite", the celebration aims to fight for the following causes: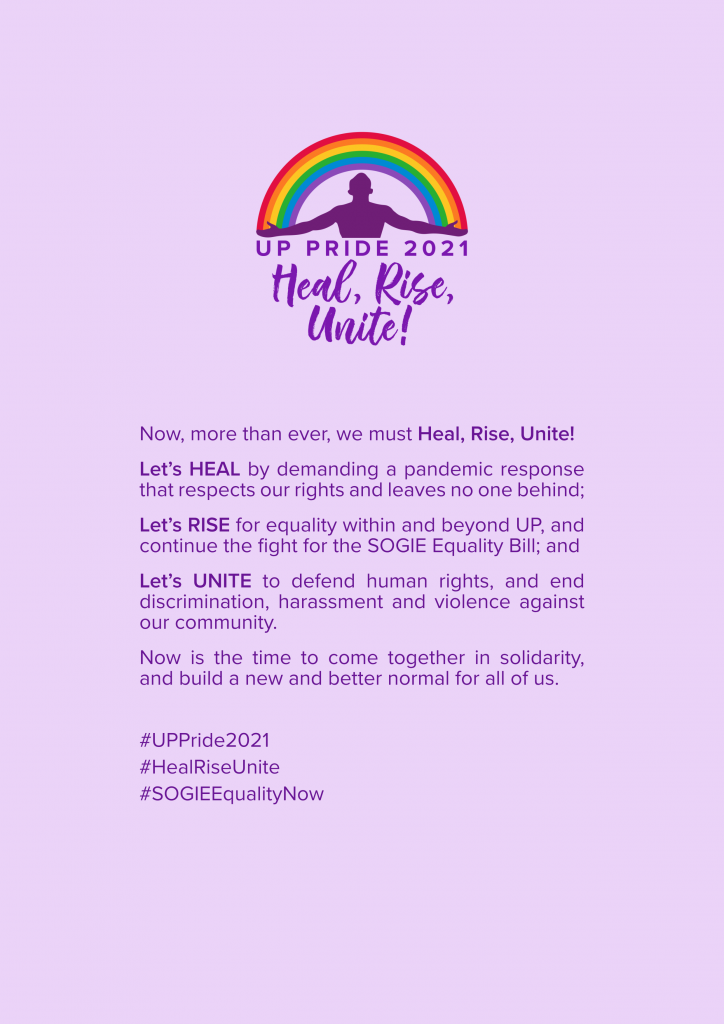 For more information on UP Pride 2021, kindly visit the following:
Events Calendar:

https://www.facebook.com/370840550000849/posts/1296013830816845/?d=n

UP Pride History:

https://www.facebook.com/uppride/posts/1298243857260509

UP Pride Opening Day:

https://www.facebook.com/uppride/posts/1299025973848964