The University of the Philippines Open University (UPOU) through the Faculty of Management and Development Studies (FMDS) and the Office of Gender Concerns (OGC) collaborated with the Women Sustainability Academy for this year's Women Sustainability Forum held last August 31, 2022. The forum was attended by researchers, scholars, practitioners, and advocates for sustainability from different countries and was streamed live on UPOU websites.
The forum focused on three topics namely Education for sustainable development, Gender, and Climate Change, and Future-focused Sustainability. Dr. Isabel B. Franco, the global chairperson of the Women Sustainability Academy, welcomed the participants and introduced all the speakers, and briefed the topics to be discussed in the forum.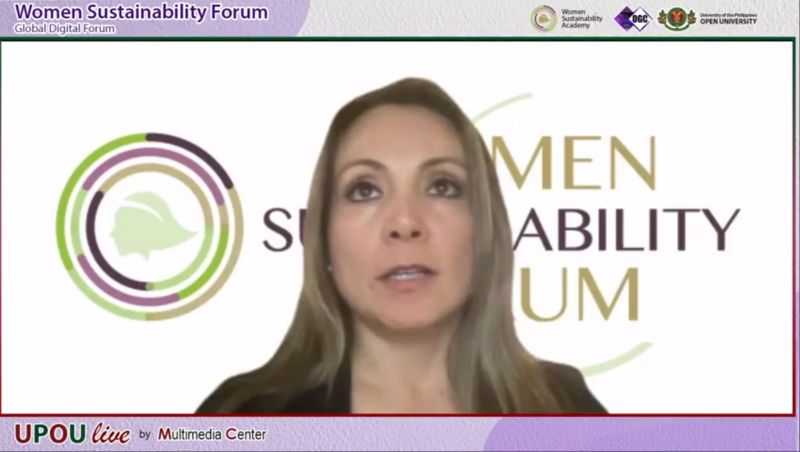 The plenary session's first speaker, Dr. Joane Serrano tackled a Future-Focused approach toward sustainability and described sustainability as a discipline that points toward a sustainable society, and discussed the parallelism of university programs, sustainability competencies, and 21st-century goals. She ended by explaining the soon-to-be offered Doctor in Sustainability of FMDS and her sharing of her personal reflections. "Sustainability can only be achieved if we make futures-thinking." Dr. Serrano said.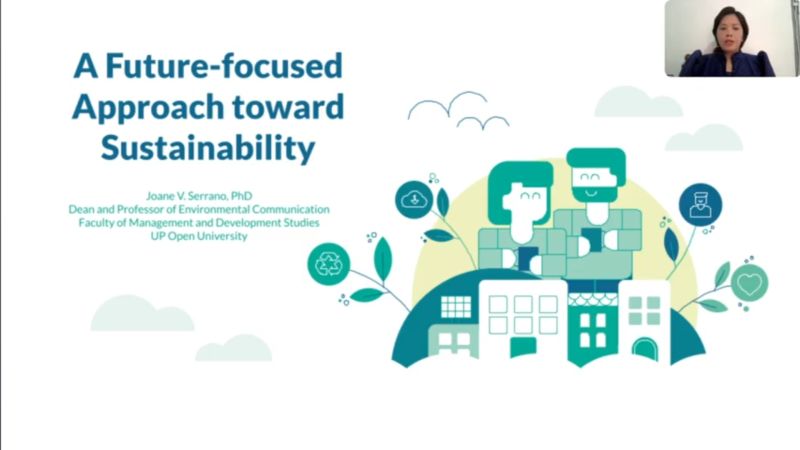 Katherine Viñegas, a senior advisor at the German International Development Cooperation and a UPOU lecturer talked about Gender Mainstreaming in the Philippines' Environmental Management Bureau by diving deep into the bureau's mandates, functions, and initiatives. She also shared the gains and challenges encountered and ways forward like the engagement of women in various projects, creation of technical training, and involvement of women's organizations in decision-making.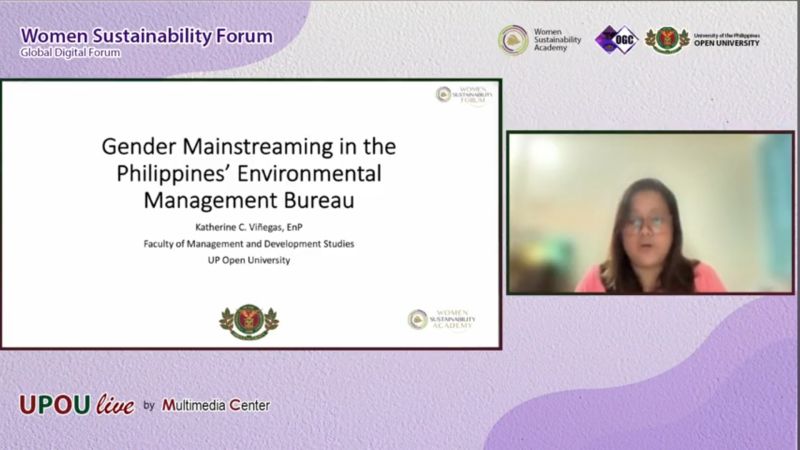 George Lwanda from United Nations Residency Coordination in Gambia, Africa talked about SDGs (Sustainable Development Goals) for women's sustainability. By providing a life of a girl with no SGDs, he was able to tell a story about women's and girls' challenges and how the SDGs eased them.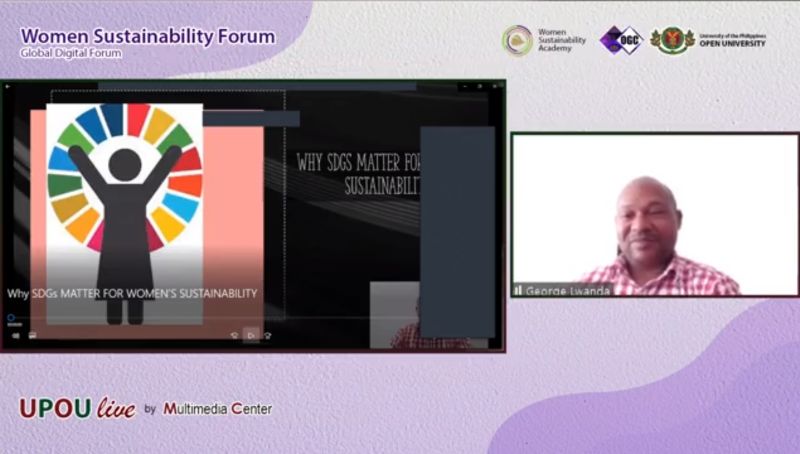 Dr. Finaflor Taylan, Director of Office of Gender Concerns of UPOU presented her paper entitled (Re)Claiming Women's Spaces: Towards widened and quality participation of women in biodiversity/environment management. She elaborated on how women's participation is essential in achieving human rights. She also examined the ways forward by strengthening collaboration among government and other stakeholders like women, implementing gender-responsive programs, and raising awareness on issues that affect women and other marginalized groups.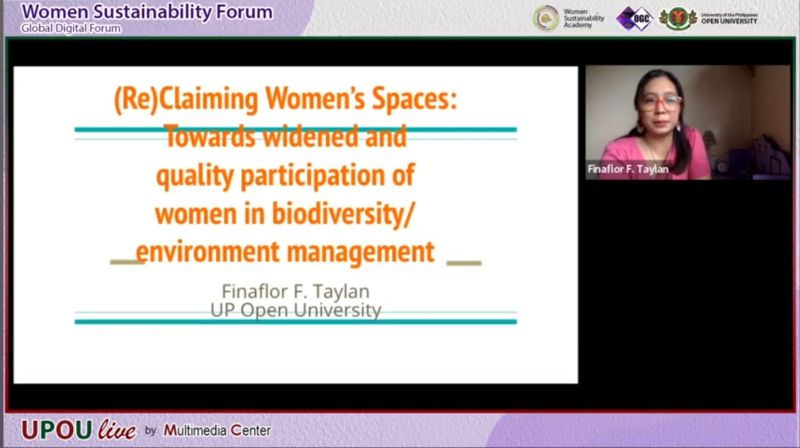 Ivan Delgado Pitti, the Director of Climate Change, Ministry of Environment and Energy of Costa Rica started his presentation by saying, "Sustainability looks like a woman." He then explained how Costa Rica is on a cyclone trajectory thus putting more people and women in vulnerable positions when it comes to the impacts of climate change.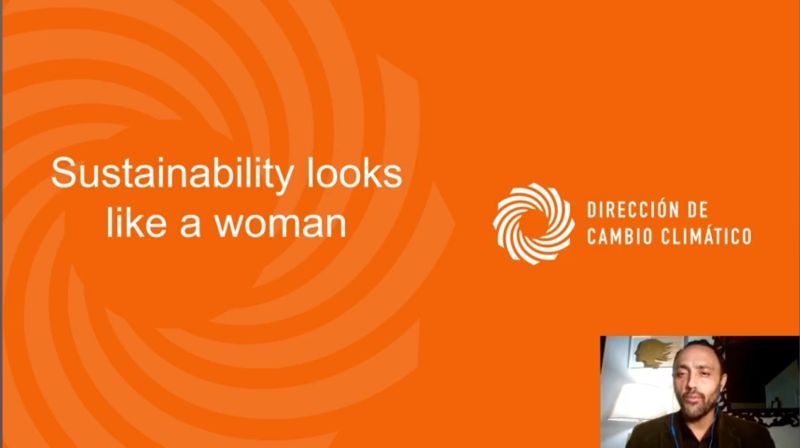 The plenary session ended with Dr. Melinda Bandalaria, Chancellor of UPOU, who highlighted the importance of sustainability and how it continues to be both a challenge and an important goal for all. She explained how UPOU operationalizes its efforts to contribute to sustainable development and university of the future. The forum was then followed by a short Q&A. The speakers were also given the Exceptional Woman/Champion in Sustainability 2022 (eWisely) award.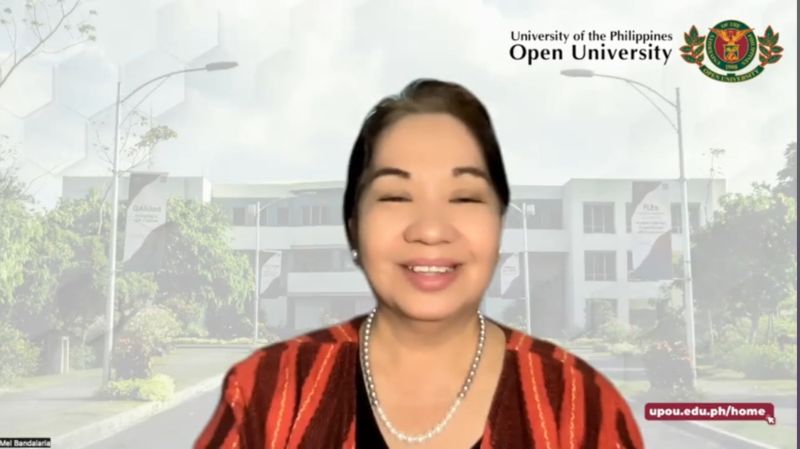 The parallel session on future-focused sustainability and education for sustainable development was led by Dr. Isabel B. Franco while regional chairperson Vihanga Amarakoon facilitated the gender and climate change session.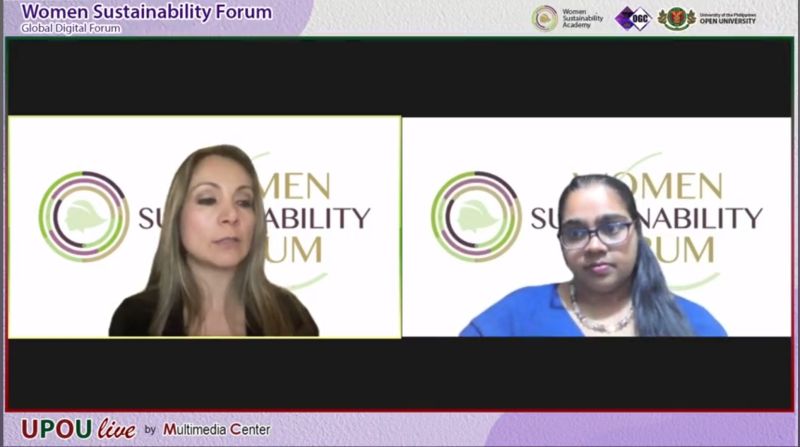 Dr. Devanmini Halwatura, a senior lecturer from the University of Colombo presented the "People's Goals- Do people conscious of Sustainable Development Goals: Case studies from Sri Lanka" that examines the public perceptions towards the SDGs.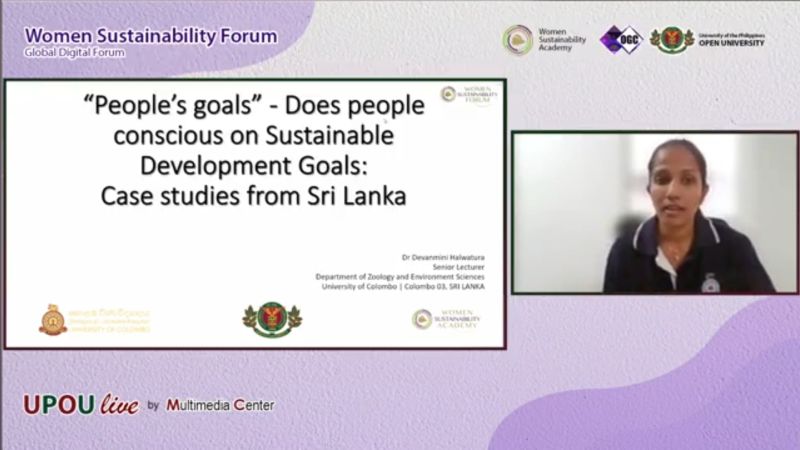 Urvi Dinah Thanekar, a Ph.D. student from Deakin University, Australia presented her study entitled "Improving Sustainability In Health Care: A Key To A Sustainable Future" as she draw insights from a broader perspective on how research, food systems, and healthcare sustainability may lead to a healthier and more sustainable future generations. She highlighted that the implementation of such policy is essential for achieving sustainable goals by providing a a mechanism to attain climate resilience.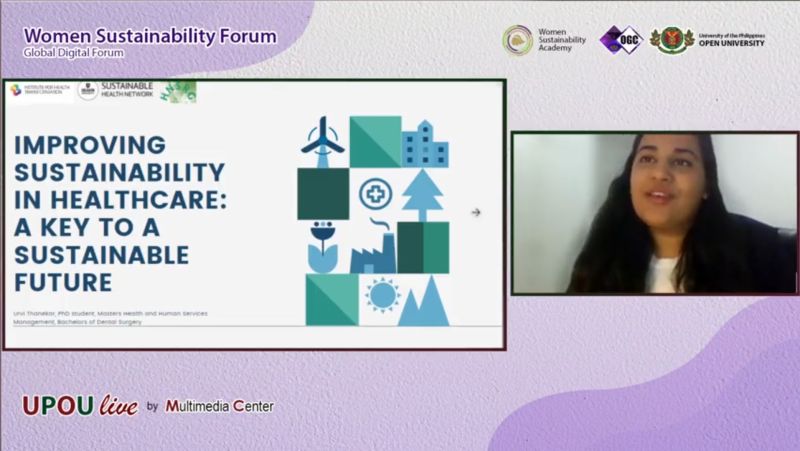 Alvie Simonette Q. Alip, a university researcher from the University of the Philippines Open University also presented her study on "Learning Communities for Sustainable Development " in order to bring people to work alongside each other. She emphasized that people have to think globally and act locally in order to form a local approach and that enhanced planning would be a way to achieve the SDGs.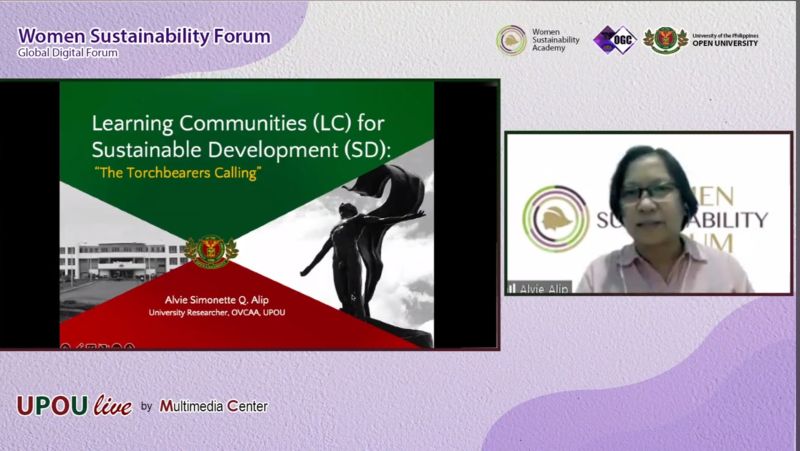 The last presentation in the education for sustainable development and future-focused sustainability was from Archill Niña Faller-Capistrano, Assistant Professor of Political Science from the University of the Philippines Cebu. She presented the study entitled "Power(lessness) of women and girls in liquid modern consumerism: Reflections at the nexus between gender justice and sustainability." She explained that there have to be aspirations and inspirations and highlights the powerlessness of the future generation and nature. She ended her presentation by saying "I raise my voice not so I can shout, but so that those without a voice can be heard. We cannot succeed when half of us are held back", a quote from Malala Yousafzai.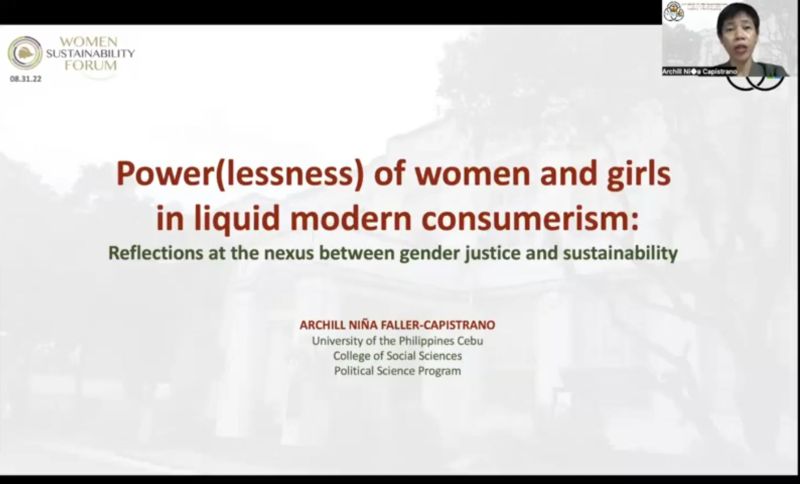 The Gender and Climate Change parallel session began with the presentation of Dilisha Gunawardena's study entitled "Climate Justice for Women: How Far from Reality?" She discussed how climate injustice is evident in developing nations, most of which contribute minimally to climate change. She also juxtaposed the situation of women in these countries with the existing gender inequalities and concluded that the climate crisis is indeed not gender neutral hence, recognizing the potential of women in disaster management is crucial in improving disaster response.
Dr. Thelma Paris, a UPOU lecturer and a former socio economist-gender specialist with more than 30 years of experience in strategic research at the International Rice Research Institute presented "Climate change, agriculture, and gender: Insights in Southeast Asia". In her study, she explained how problems for women in agriculture stem from their lack of access to resources. She also mentioned how the roles of women have changed over time – from being budget keepers to entrepreneurs and managers of the farm, finance, and assets in the communities.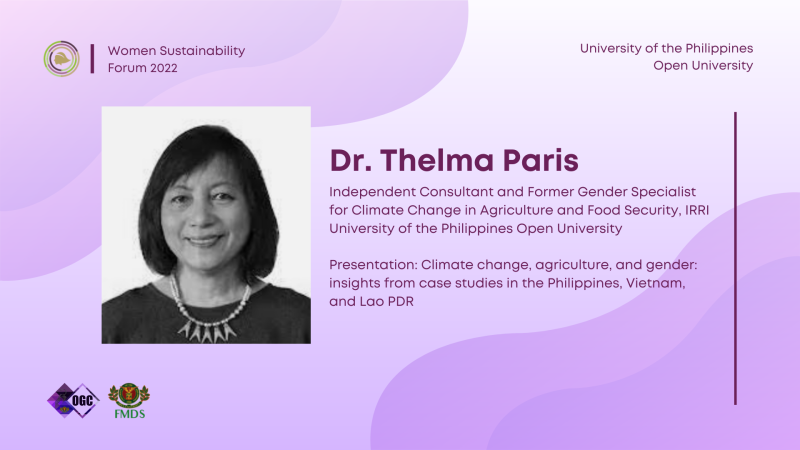 After the parallel session, the forum returned to the plenary session for the question and answer and closing remarks. Dr. Isabel B. Franco ended the forum by acknowledging and appreciating the speakers who gave their time and contribution to the women sustainability forum. There was an emphasis that the forum may have ended but the collaboration and discussion among stakeholders can start from this forum.
The Women Sustainability Forum is an annual event hosted by the Women Sustainability Academy.